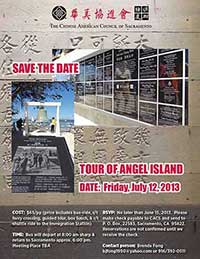 Tour Angel Island
Immigration Station
Friday, July 12, 2013
Cost: $65/pp – includes charter coach ride, boxed lunch, r/t ferry crossing, r/t shuttle ride up to the Immigration Station with guided tour.
Charter bus to leave promptly at 8:00 am. Return to Sacramento approx. 6:00 pm.
Meet at the "South Hills Shopping Center" parking lot, located at 5874 S. Land Park Drive, Sacramento, CA 95822. (Please park in the area closest to South Land Park Drive).
Only 50 seats available – RSVP no later than June 15, 2013. Reservation not confirmed until we receive your payment. Seating on the bus will be "first come-first serve basis".
Please complete the registration form below and make check payable to "CACS".
Send to: CACS, c/o Brenda Fong, 432 Cedar River Way, Sacramento, CA 95831
Cancellations must be received 10 business days prior to trip, otherwise no refund.

Disclaimer: No refund for "no-show". In the event of illness or emergency, please send a replacement.


Contacts:

Joyce Eng at 916/995-1186 or:

[email protected]

Brenda Fong at 916/392-0511or:

[email protected]
President's Message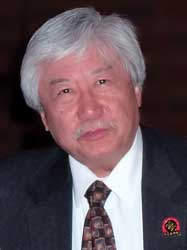 Greetings Members, Friends, and supporters of the Chinese American Council of Sacramento!
Best wishes to you and your loved ones for a healthful and harmonious New Year!
On behalf of the CACS board, kudos and very sincere thanks to Past President Kingman Louie for his leadership of CACS during the past year. In spite of his many community commitments he stepped up to guide the CACS' board during a crucial period of its history. Kingman will continue to serve on the board and provide the vital support it needs for continued success in pursuing its mission and vision; to preserve the history of the Chinese in America and to be involved with API social justice.
I look forward to a year of rebuilding, a year of reestablishing CACS position in the community and continuing its support to those in need. Sadly, we are still feeling the loss of Doug Yee, who passed away last year. Nevertheless, we will carry on his legacy of the author dinner/lectures events and supporting historical projects.
One of my priorities is to continue to distribute the CACS book, "Canton Footprints" to schools, libraries, and organizations. Several years prior to the publishing of the book, Doug and I had discussed this; the important thing is not to necessarily make a profit on the project, but to inform and educate people about the Chinese history and contributions in the Sacramento area.
Another priority to address is social issues and concerns of the community, to keep abreast of what is going on in the community at large, but more about that later… To learn more about CACS, I encourage our members to attend one of our upcoming board meetings held the 3rd Wednesday of each even month at 6:30 pm at the Sacramento Executive Airport on Freeport Blvd. Please contact me at 916-424-1374 or e-mail [email protected] if you are interested in attending one of our board meetings.
Sincerely,
Alex Eng, 2013 CACS President
Upcoming Events
3/16 – Quan Ying Crab Feed & Follies, 5p – Stockton Scottish Rite Masonic Auditorium April – CACS Author Lecture Dinner – TBA
4/7 - Membership and Volunteer Appreciation Dinner - More info here
5/04 – OCA Dragon Boat Festival, 5:30p – Doubletree
5/11 – Locke Spring Festival, 10a-4p – Town of Locke
5/19 – Pacific Rim Street Fest – Old Sacramento July – Angel Island Bus Trip, 8am – LaBou parking lot, details later
7/13 - Tour of Angel Island - See Flyer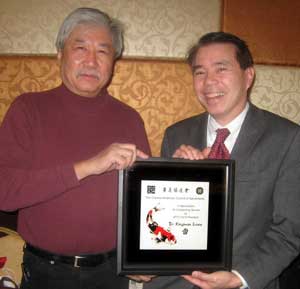 Incoming CACS President Alex Eng presents plaque to outgoing President Dr. Kingman Louis
Year End Celebration
To end another successful year, on Friday, December 28, 2012, CACS Board of Directors/advisors and spouses celebrated the Holidays with a fabulous 10-course meal at the new Hong Kong Islanders restaurant and a gift exchange afterwards. Alex Eng (incoming President) presented a plaque to Dr. Kingman Louie (outgoing President) in appreciation for his leadership and stepping up to the plate to help out CACS last year.
Photos from 2012 Operation Santa Claus
Operation Santa Claus Report
By Karun Yee
The Chinese American Council of Sacramento (CACS) has once again brought happy thoughts to our less fortunate children in the Lemon Hill area of Sacramento. The Sacramento Chinese Community Service Center (SCCSC), lead by Anne Luong, was able to identify our candidates for holiday presents and food vouchers, being in the after school program at various schools.  With the help of her team of counselors and SCCSC staff, we were able to choose 100 lucky families from applications submitted by their children.
In November, our dedicated volunteers (obtained by superstar Merlayna Yee-Chin) met at Aviators for a breakfast orientation. Jeanie Lee, who spearheaded this project in the past, was instrumental in setting up the guidelines and procedures for Operation Santa Claus. Due to the economic climate, CACS had limited resources; however, the volunteers were a very creative group, they were able to manage within CACS' budget. CACS also received donations for OSC at our Gold Mountain Celebration in October 2012. Thanks to the following donors: Dr. Ron & Janet Allen, Ellen Blonder, Cheryl Choy, Philip & Sarah Choy, Lorraine Emery, Joyce Eng, Pau & Judi Fong, Claire Fung, Dr. Dick Huang, Jerry & Lorraine Huang, Yvonne Jung, Johnston Lau & Margaret Robinson, Betty J. Louie, Dave & Susie Low, William & Judy Yee, and Flora Young.
Brenda and Brian Fong's home served as our warehouse for gifts. Brenda, Brian, Daniel, Merlayna, Jeanie, Joyce and Karun checked correct labels and applied food certificates to each bag.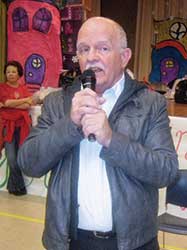 Henry Kloczkowski, Executive Director of SCCSC
Thursday, December 13, we loaded several vehicles and drove all the presents to Pacific Elementary school. Special thanks to Marlene Oehler of Klumpp's for the use of their company van (driven by Buffie Radovich). Ray and Kathy Giles, our volunteer photographer had set up an area to take free photos of our families. Franc Martinez, our faithful Santa Claus, tried to hide out from the kids but they spotted him behind the auditorium. To start of the program, the children from Pacific Elementary School sang two holiday songs to get the program started. Henry Kloczkowski, Executive Director of SCCSC, and Ann Luong of SCCSC and Karun Yee from CACS Mc'd the program and helped Santa hand out the holiday gifts.
It takes a great team of wonderful volunteers to produce a smooth and enjoyable class act (CACS has the reputation).  I wish to thank the CACS board, Buffie Radovich, Deanne Yabumoto-Ng, Susan Kwong, Cindy Won-Nakata, Wendy Okuda, Christine Fong, Brenda & Brian Fong, June Fong, Jeanie Lee, Chris Louie, Douglas Louie, Janet Louie, Jennifer Louie, Alex & Joyce Eng, Honey Lum, Willie Lum, Franc Martinez, Helen Fong, Joyce & Bill Tom, Kim Rabbon, Cathy Wei, Merlayna Yee & Frank Chin and Darren & Julia Yee.  Special thanks to Joan Hirose and Boni Chan (of Concord) for donating the many fleece hats & gloves, scarves and knitted caps for our families. Come join us again next year for fun and happy holiday feelings!
Canton Footprints Book Report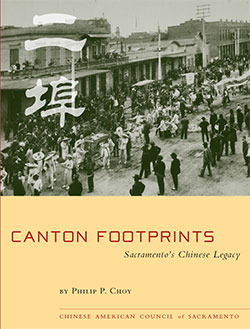 By Karun Yee
As part of our community outreach and in service program, CACS will implement our next phase of book distribution to California state-wide Asian organizations, colleges, libraries and schools. In addition to circulating one free copy of Canton Footprints to all the libraries in the Sacramento Region, CACS will start by scheduling in-service training at the San Juan Unified School district to 3rd and 4th grade teachers who are studying and/or teaching Sacramento Chinese history in California. Teachers attending the lecture will be presented a free soft bound copy of Canton Footprints. If additional books are needed, they can be purchased directly from CACS. Suggestions for further distribution are welcome.   Due to the limited number of books available (approx. 500), this year may be the last chance to obtain Canton Footprints. Awarded honors by the Sacramento Historical Society and the California Rare Book Club, this book would be a welcome addition to anyone's library collection. Contact Karun Yee, CACS Historical co-chair, at 916-591-8181 for further information on purchasing a book. Books are also available at the Sacramento Railroad Museum, Parkside Pharmacy, Folsom Museum, Locke Museum, and the East Wind Bookstore in Berkeley.