25th Anniversary Gold Mountain Celebration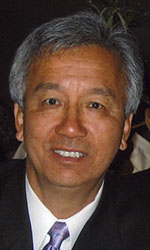 Douglas Yee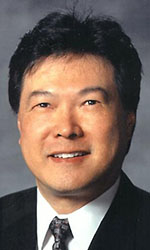 Sonney Chong
CACS will honor Dr. Sonney Chong for the 2012 Frank Fat Founder's Award and the late Dr. Douglas Yee for the 2012 Hall of Fame at the upcoming 25th Anniversary Gold Mountain Celebration on Friday, Oct. 5, 2012, at the Happy Garden Seafood Restaurant, 5731 Stockton Blvd., Sacramento,CA 95824. Tickers are $60 per person and $500 for a table of 10.
The Frank Fat Founder's Award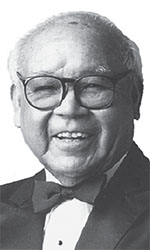 Named for the late Frank Fat (1904 – 1997), (the driving force that created the Chinese American Council of Sacramento in 1988), CACS past president Dr. Sonney Chong and the CACS Board established the Frank Fat Founder's Award in 1997. The intent of the Award was to acknowledge those leaders who had, for years, sel.essly given of themselves and their time for the community. The Frank Fat Founder's Award is the highest award given by CACS. Only one worthy individual receives this award each year, and the presentation is held at the annual CACS Gold Mountain Celebration.
Candidates for the Frank Fat Founders Award must be a member of the Sacramento community in good standing and have qualities exemplifying the founding spirit of CACS, which include:
Being a strong, positive role model for youth, demonstrating good citizenship and patriotism.
Being a strong representative of the Chinese American community to the greater Sacramento community.
Display a pattern of unselfish behavior that places the well-being of the Asian community before personal feelings.
Have performed outstanding service to the Chinese American community for an extended period of time.
Individuals nominated for the Frank Fat Founders Award must have demonstrated a high level of leadership, involvement, and commitment to the community and its organizations and projects for an extended period of time; to have had extensive involvement with one or more of the following:
Programs/projects preserving the culture and history of Chinese and other Asian Americans.
Advocate for civil right issues bene.cial to the rights and well being of Asian Paci.c Americans both locally and abroad.
Humanitarian accomplishments bene.ting the Asian Community.
Constructive activities that raise the awareness of the community toward Asian Americans.
President's Message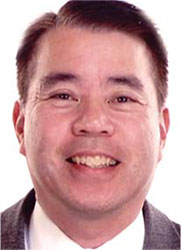 Spring has just arrived and we have much to be thankful for. We had a fantastic turn out for our Membership / Volunteer Ap­preciation dinner. We had almost 100 in attendance and it was great to see so many familiar faces and meet many new members. One of my main objectives, at the helm of CACS, is to try to incorporate programs our membership has an interest in. Brenda Fong, our membership chair­person, received many great ideas from our members in attendance, by way of the survey forms that were passed out at our dinner, and we will discuss their feasibility and try to incorporate many of your ideas at our very next upcoming CACS board meeting. Some things requested by our membership included educational, cultural or cooking classes and possibly some .eld trips, like the trip we did to the Angel Island Immigration Station a few years ago.
I am proud to share with you that your CACS organization showed its support to our Sacramento Asian community by sup­porting the Asian Resources Lunar New Year fundraiser last month. We are also supporting APSEA (Asian Paci. c State Employees Association) by sponsoring a $1000 scholarship to a deserving college-bound high school student from the Sacramento com­munity. I am happy and proud to share with you that our very own Linda Ng, CACS's treasurer, is being honored with the Community Service Award at the APSEA Scholarship Dinner on April 24.
Congratulations Franc Martinez for receiv­ing the CACS Member of the Year award for 2011-2012. Franc has been helping CACS with its many programs continuously since 1998 and the larger Sacramento Asian community for the past 20 years. I wish I could give each of our CACS board members an award because they work tirelessly to make CACS continue to be a great and successful organization that we can all be proud of. As always, if you have any suggestions or thoughts, please feel free to contact me at home (916) 392-8524 or [email protected].
Respectfully,
Dr. Kingman Louie, 2012 CACS President
Calendar of Events
CACS Sponsors and Supports these events
May 05, 2012 OCA Dragon Boat Festival - Doubletree from 5:30 - 11:30 pm
May 19, 2012 Paci.c Rim Street Fest - Old Sacramento, 10 - 5 pm
June 03, 2012 Angel Island Immigration Station Foundation Brunch - Tsakopoulos Sacramento Library, 11 - 2 pm
June 30, 2012 CAPITAL Foundation Gala - Rice Bowl, 5:30 - 8:30 pm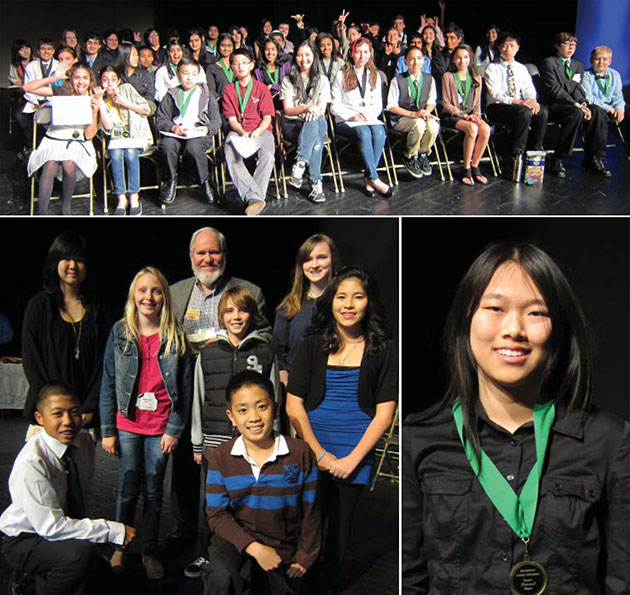 Top, Sacramento County History Day winners. Left, Mary Tsukamoto Award winners with CACS member Bob LaPerriere. Right, Junior Historical Paper Winner, Huaning Wang.
Sacramento County History Day
By Alex Eng
On March 3, 2012, the annual Sacramento County History Day competition involving high school juniors and seniors throughout Sacramento County was held on the Rosemont High School campus. Heather Downey, the event director, coordinated the volunteers, historians, educators, and other participants in evaluating the students' entries. Providing the students with constructive feedback is essential to the learning process.
Over 200 students researched and developed their projects based on this year's theme, "Revolution, Reaction, Reform in History." The competition had six categories: historical paper, documentary, dramatic performance, exhibit, website, and two-dimensional displays. The two junior (6th-8th grade) winners and three senior (9th-12th grade) winners in each category advance to the state competition April 27-29 in Riverside California. Winners of that event go on to the National History Day Event on June 10-14 in College Park, Maryland. Answering the call for judges, CACS has for the last four years, sent representatives (Doug and Karun Yee, Joyce and Alex Eng, and Brenda Fong) to evaluate the projects, essays and performances of students in grades 4-12. Doug and Karun had volunteered for previous years; this year Vice President Alex Eng was the sole CACS volunteer judge for History Day. As in the past, CACS provided special awards (copies of the book Canton Footprints) to the best projects focusing on Chinese history.
This year the CACS student recipients selected were: Huaning Wang of Folsom Middle School for "The Cultural Revolution of China: Annihilating Culture through Political and Class Struggle" (Historical Research Paper, Junior Division); and Jenny Li, Lindsay Du, Julie Ng, Fanny Huang, of Sam Brannan Middle School for "The Boxer Rebellion: Reaction in China Towards Foreigners" (Performance Group, Junior Division).
CACS congratulates these students on their excellent projects and wishes them all the best on their future endeavors. We hope they continue their interest in the contributions of the Chinese both in the United States and abroad.
It is hoped that CACS and its members will continue to participate in the Sacramento County History Day event. It's a wonderful experience to see first hand and participate in a program that encourages and rewards students for their efforts.
CACS Loses Tremendous Leader, Visionary
Douglas H. Yee (1949-2012)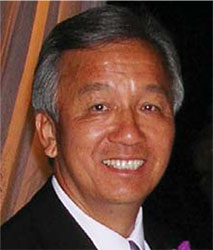 By Alex Eng
On the evening of March 18, 2012, Sacramento lost a very important friend, staunch supporter and leader. The shock of how someone so relatively young could be gone spread throughout the community. Surrounded by his loving family, Douglas Henry Yee passed away, succumbing to a short, losing battle with liver cancer –-he was only 62 years old. The memorial service was held at Harry A. Nauman and Son in Sacramento on March 30, 2012. Not surprisingly the chapel and adjacent rooms were filled and overflowing with Doug's family, friends, and community representatives.
Doug was a native Sacramentan who pursued the traditional family career path of dentistry (with the exception of brother Alan) and after establishing a lucrative 35-year dental practice, Doug retired in 2008.
Doug—
Your love of history…what a wonderful legacy
What a giving and caring
person you are
sharing adventures near and far.
I always enjoyed the trips to the Bay
for history, and shopping and eating, always.
The bartering and bargaining
for costumes was fun
it took the right touch
and many multiple runs.
In pursuit of the stories of family roots
CANTON FOOTPRINTS—
Oh what a great book!
Your knowledge of lectures and authors
and books,
it didn't take long for us all to get hooked.
I learned as I watched you
develop China Camp at Gold Rush
it was educational and fun
and absolutely meant so much.
Sharing BBQs and boat rides,
stays at Tahoe and so much more…
It was always fun spending time to explore.
I'll miss the historical lessons
you provide with such zest
learning from you
was the absolute best.

Thank you for your friendship…
Merlayna
March 2012

This July would have marked Doug and Karun's 40th anniversary. Their idyllic union led them to become the proud parents of Darren and Julia and recent grandparents to 6-month-old Jake (Julia and Dean). Doug and Karun had the perfect partnership; both shared a common passion for their family, love of history, and community participation. Much of what Doug was able to accomplish was with Karun's contribution.
As many of us at CACS know, Doug was very passionate about the history of Chinese in America; specifically in the Sacramento and Delta area. He spent much of his time pursuing this subject, researching, conducting oral interviews for the book Canton Footprints, attending historical events, organizing projects and scrounging around old book stores and antique shops in search of publications and documents and artifacts about the Chinese in America. Doug was on the CACS Board of Directors for over 15 years as the Historical Chair and President of CACS from 2004 through 2006. His accomplishments in CACS included: Author dinner/lectures featuring authors of books on Chinese American subjects from history to cook books, to fiction. He took a personal interest in promoting the Gold Rush Days event in Old Sacramento. Doug also established the Annual Gold Mountain Celebration and the CACS Hall of Fame honoring those Chinese Americans who were pioneers in their respective fields and who were role models and leaders for successive generations.
Doug was very instrumental in the publication of Canton Footprints –Sacramento's Chinese Legacy. Working with Phillip Choy, a renown historian and author on Chinese American history, Doug and Karun helped provide research, oral interviews and transportation; raised $35,000 for the publication of this book and led the editing, marketing, and distribution of the award-winning book.
Other CACS projects Doug was involved in were: Legacy of Gold Mountain Exhibit at the Discovery Museum project (1995), Pacific Rim Street Fest, Chinatown Mall Festival, Care for Kids, Santa's Day, scholarships, and the preservation of the history of the Town of Locke. Also, field trips to Angel Island Immigration Station; SF Asian Art Museum; and Chinese Historical Society Museum; Oroville Chinese Museum; and Marysville Bok Kai Temple, to name a few.
Doug's community service on 20 organizational boards (historical and professional) ultimately earned him the KVIE PBS TV Local Hero Award for 2006.
Needless to say, Doug passed away much too soon. He leaves a legacy of his achievements and success in historical preservation. His passing will also leave a huge void, and there is still much to be done. CACS owes it to Doug to continue the preservation of the Chinese history of Sacramento, to acknowledge those who sacrificed and paved the road for future generations of Chinese Americans, and to ensure social justice for all.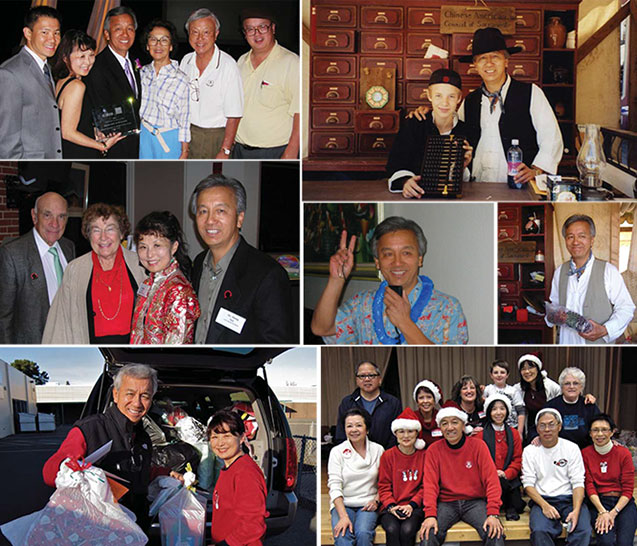 Top left, Doug with family at the 2006 KVIE Local Hero Award. Center left, Doug and Karun with Illa Collin and her husband, Don, at the Gold Mountain Event. Top and center right, Doug at Gold Rush Days. Center, Doug at Hawaiian event. Bottom left, Doug with board and volunteers at Operation Santa Claus Bottom Right, Doug and Karun shopping for Operation Santa Claus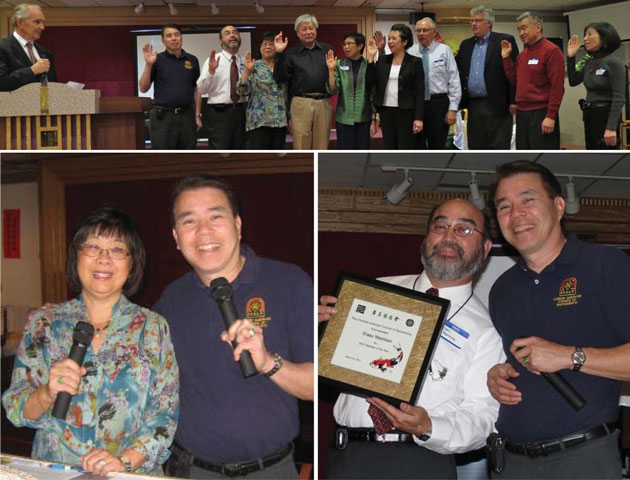 Top, Justice George Nicholson swears in 2012 Board of Directors and Advisors. Left, Joyce Eng, the event Chairperson and newly elected CACS president Dr. Kingman Louie welcoming membership. Right, Franc Martinez shows off his Outstandng Member of the Year certificate with newly elected CACS President Dr. Kingman Louie
Membership/Volunteers Appreciation Dinner
By Charlie Moy
On March 30th the annual CACS Membership Appreciation Dinner was held at the Rice Bowl Restaurant. The crowd was treated to an outstanding eight-course dinner as well as a slide show presentation of the 2011 accomplishments and current CACS activities.
Franc Martinez was honored as the "CACS Member of the Year" for his outstanding community service over the last 20 years. CACS looks forward to offering this free dinner annually to recognize and appreciate the support of the membership and volunteers, and provide an opportunity to socialize among friends.
In attendance were lifetime members, including Insurance Commissioner Dave Jones, Former County Supervisor Illa Collin & Don Collin, Dr. Sonney Chong, Roger & Florence Fong and Sam & Peggy Ong. In addition, Mamie Yee representing County Supervisor Jimmie Yee; Sacramento City School Board member Darrel Woo; Michael Head, OCA President; Bob LaPerriere, Sacramento County Historical Consortium; Marghe Covino representing the LGBT community; and Lisa Scott-Lee, CEO of CEUS.
CACS Membership News
By Brenda Fong
Thanks to the following individuals for their membership:
New Life Members: Honey Lum and Judy Yee.
New Members: Christine & Bill Fong, Gloria Gee, Jeanne & Julio Li, Sherri Wells, Darrel & Nancy Woo, Florence & Kingston Yee, and Helen Yee. 2012 Renewing Members: Paul & Marie Cheung, Marghe Covino, Dr. Bob LaPerriere, Betty J. Louie, Charlie & Barbara Moy, Shirlee Wong-Snider, Cathy Wei, and Mamie Yee At the dinner we shared a survey with guests receiving ideas on how we can better serve you. The majority of you are interested in history/culture of the Chinese, field trips, ethnic cooking classes and lectures. Other activities or interests: health awareness (in particular hepatitis prevention in the Asian community), educational workshops for adults and children to educate them on Chinese culture, scholarship programs for API students, more awareness of API business in the Sacramento area, dinner/dances, and exercise classes. These are great ideas, which we hope to create for you in the near future.
On behalf of CACS, thank you for renewing your membership, and welcome to our new members.
Issues and Concerns
By Joyce Eng
CACS signs and supports the petition sent by Rep. Judy Chu, 32nd District, to hold the military accountable and implement a zero-tolerance hazing policy. Chu has collected over 2,000 signatures in a short amount of time, calling on Defense Secretary Leon Panetta to change military culture and stop hazing and harassment.
In separate incidents, Marines have been charged in the deaths of two fellow marines, Private Danny Chen and Congresswomen Chu's nephew Lance Corporal Harry Lew. The not-guilty verdicts of two defendants and the minimal punishment of the third show that justice cannot be obtained in the military system. In a military trial, the "jury of the peers" is comprised entirely of Marines, who think that hazing is normal and even expected. Therefore, unless the community demands change, nothing will happen to these Marines who assault other Marines, even though they are supposed to be fighting on the same side of the war.
Hazing is a serious problem in the military, and though the military has policies in place, they aren't being enforced and they are not effective. The hearing held on March 22, 2012 in the House Armed Services Committee was indeed a positive step forward, but there is much more to done. Congressman Chu is counting on our support to advocate on this issue. Together we can make sure other military families don't ever have to experience and suffer the tragic losses of Private Danny Chen and Congressman Chu's nephew Lance Corporal Harry Lew.
In addition, CACS supports AB 1814 by Assemblyman Mike Eng on Voting Rights Language Assistance. CACS is pleased to support AB 1814, because it will strengthen the Secretary of State's ability to monitor the compliance of election officials with various voting rights laws, which will ensure that election officials have adequate plans for providing language assistance and adhere to the Secretary of State's uniform poll worker training standards. Increased compliance with voting rights laws would mitigate barriers and facilitate the ability of limited English-proficient and first-time voters to participate in California's democracy.